By design, all users with a Global Admin role in Microsoft 365 are granted full access to the BEMO Store.
In certain cases, you may also want to grant access to standard users to the Store without having to change their roles to a Global Admin.
This can be accomplished in different ways
Method #1: At first sign-in, allow access to all users - Consent on behalf of your organization
The first time a global admin signs in to https://store.bemopro.com, she/he will be presented with this form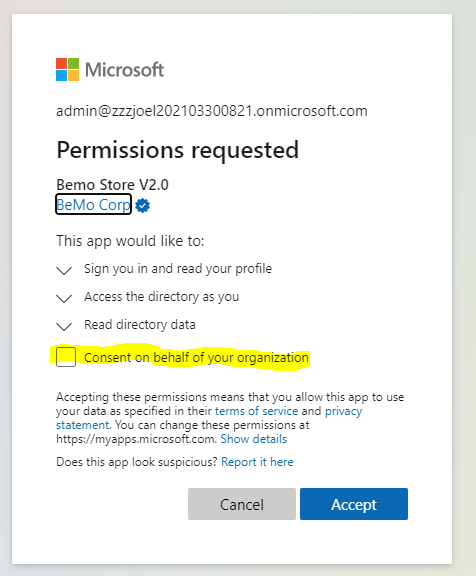 If you check the "Consent on behalf of your organization" and accept, then all users in your tenant will have access to the BEMO Store enterprise application
If you are not sure if you had granted consent on behalf of your organization, follow method # 2 below.
Method #2: Grand admin consent in Azure portal
1. Log in to your Azure portal at https://portal.azure.com
2. Type in "Azure Active Directory" in the search toolbar
3. Click on Enterprise Applications (in the left pane) and click on "Bemo Store V2.0" enterprise application
4. Click on Permissions

5. Click on "Grant admin consent for..."
6. If prompted, enter your credentials
7. Click on Accept when you see this form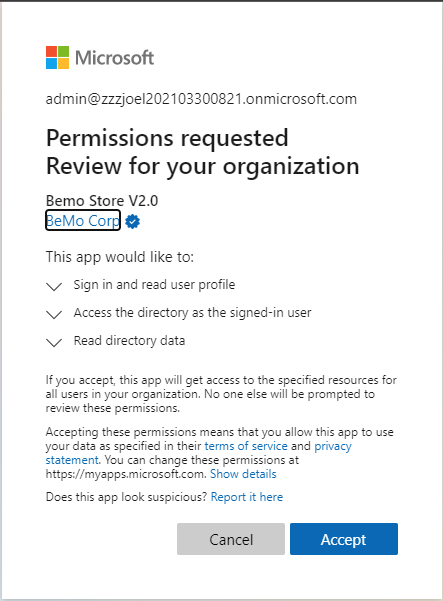 8. Refresh the page to confirm the acceptance has gone through.
9. Let your users know they can access the BEMO Store app at https://store.bemopro.com and will also see the app on their respective Office 365 page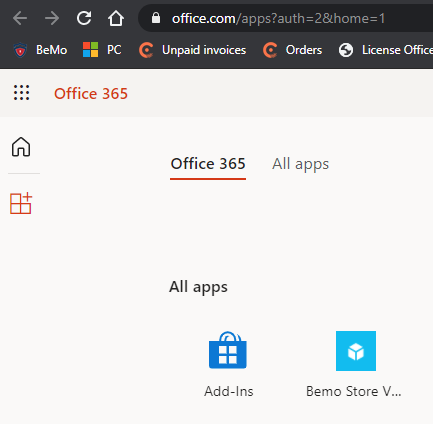 Method #3: Start over by deleting the existing BEMO Store enterprise application(s) and redo method #1
1. Log in to your Azure portal at https://portal.azure.com
2. Type in "Azure Active Directory" in the search toolbar
3. Click on Enterprise Applications (in the left pane)
4. Locate the BEMO Store application and click on it
5. Select Properties
6. Hit Delete and confirm deletion
7. Apply Method #1 again after
NOTE: If you see BEMO Store v1 in your list of enterprise application, simply delete that application by selecting the app > Properties > Delete