Uninstall Microsoft Office 2010 or 2013 from your PC by following the below steps:
You must be signed in as an administrator on the Mac or provide an administrator name and password to complete these steps.
Remove Office for Mac applications
Open Finder > Applications.
Command  +click to select all of the Office for Mac applications.
Ctrl+click an application you selected and click Move to Trash.
Remove files from your user Library folder
In Finder, press  +Shift+g.
In the window that opens, enter ~/Library and then click Go.
Open the Containers folder and ctrl+click each of these folders and Move to Trash. Note that some of these folders may not be present.

com.microsoft.errorreporting
com.microsoft.Excel
com.microsoft.netlib.shipassertprocess
com.microsoft.Office365ServiceV2
com.microsoft.Outlook
com.microsoft.Powerpoint
com.microsoft.RMS-XPCService
com.microsoft.Word
com.microsoft.onenote.mac

Warning: Outlook data will be removed when you move the three folders listed in this step to Trash. You should back up these folders before you delete them.
Click the back arrow to go back to the Library folder and open Group Containers. Ctrl+click each of these folders if present, and Move to Trash.
UBF8T346G9.ms
UBF8T346G9.Office
UBF8T346G9.OfficeOsfWebHost
Remove from Dock and restart
If you put any of the Office applications in your Dock, go to each one and ctrl + click > Options > Remove from Dock.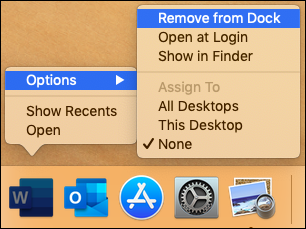 Restart your Mac to complete the uninstall.
How to remove Office license files on a Mac
Download and run the license removal tool
1. Download the license removal tool.
2. Open the .pkg file from your Mac's Downloads folder.
Note: If you get an "unidentified developer" error, try opening the file by holding Control + clicking the file > Open.
3. Select Continue and follow the prompts in the setup wizard.
Caution: We recommend you double-check that you have the correct account info ready by logging into Office.com/signin and checking for the license you want to activate with.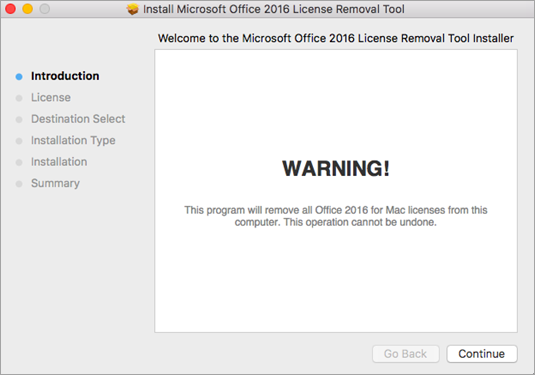 4. When you're ready to complete the license removal, select Install. You may need to enter your Mac's local admin account password.
After the tool successfully removes licenses, select Close.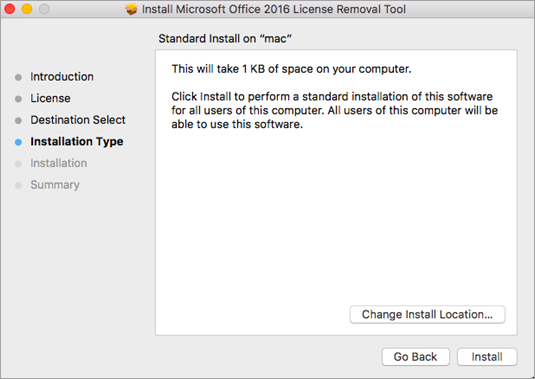 5. Now open any Office app and sign in to activate with the email account associated with your Office for Mac license. If you're troubleshooting an issue, you may need to reinstall Office before signing in.
After you've successfully activated, restart your computer and then you're good to go!
Note: If your account has both a Microsoft 365 for Mac license and a one-time purchase associated with it, you'll be prompted to choose which license you want to activate with. We recommend always choosing Microsoft 365 for Mac if available.
6. Uninstall the License Removal Tool by dragging the Microsoft_Office_License_Removal file from Finder > Downloads to Trash.
Reset your password
To connect to your new email, please:
First download the Microsoft Authenticator App from the Android Play Store or Apple App store on your phone as it will be required during your new set up process.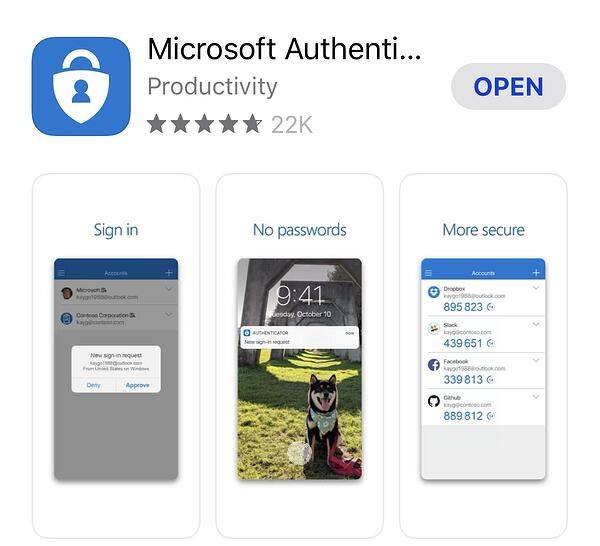 IMPORTANT: If this is the first time you're setting up the Microsoft Authenticator app, you might receive a prompt asking whether to allow the app to access your camera (iOS) or to allow the app to take pictures and record video (Android). You must select Allow so the authenticator app can access your camera to take a picture of the QR code. 
Once the Microsoft Authenticator App has been installed on your smartphone, please follow the below steps on your PC:
On your PC:
Open a web browser like Google Chrome in "Incognito' or Microsoft Edge 'In-Private' mode.
Go to https://www.office.com
Click on Sign in.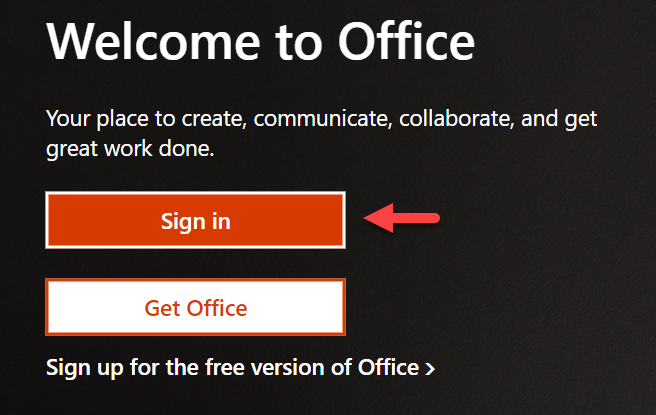 Use your credentials

Username: THIS WAS TEXTED TO YOU
Temporary password: THIS WAS TEXTED TO YOU

Follow the wizard to reset and create your own password.
Once you have reset the password, you will be asked for more information. Click on Next
Once done, you will be able to check your email on your smartphone (iOS or Android) using the Outlook app and/or via Office 365 Outlook Web (as shown below)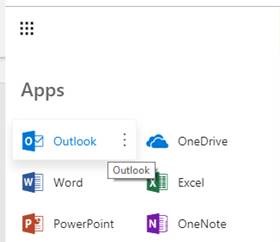 Install Office 365 on your PC or Mac
Sign in and install Office
Go to www.office.com and if you're not already signed in, select Sign in.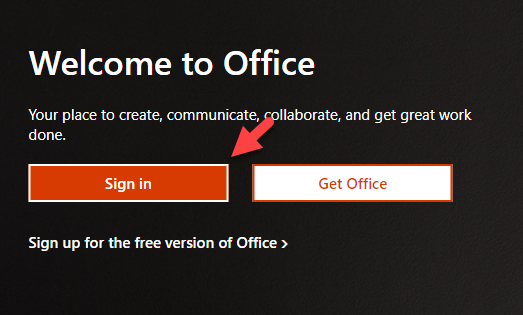 Sign in with the account your company email address associated. Choose Microsoft account, or work or school account.
From the home page select Install Office (If you set a different start page, go to aka.ms/office-install.)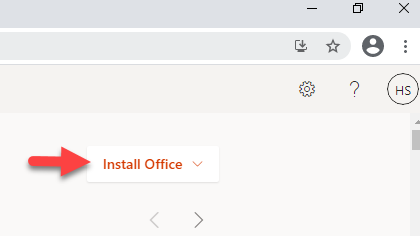 Select Office 365 apps to begin the installation.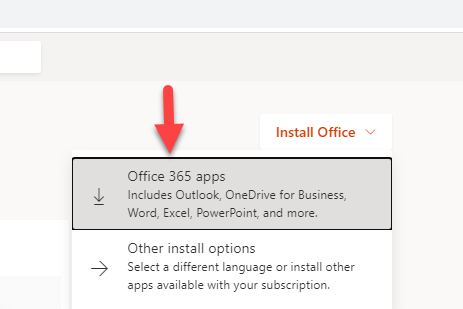 Follow the instructions below to complete installing your Office apps.
Install Office
Once the download has completed, open Finder, go to Downloads, and double-click Microsoft Office installer.pkg file (the name might vary slightly).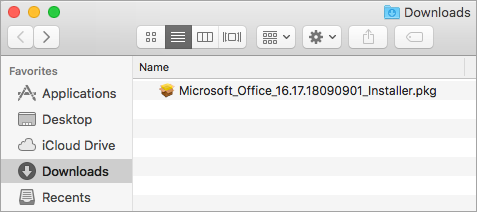 Tip: If you see an error that says the Microsoft Office installer.pkg can't be opened because it is from an unidentified developer, wait 10 seconds and move the downloaded file to your desktop. Hold Control + click the file to launch the installer.
On the first installation screen, select Continue to begin the installation process.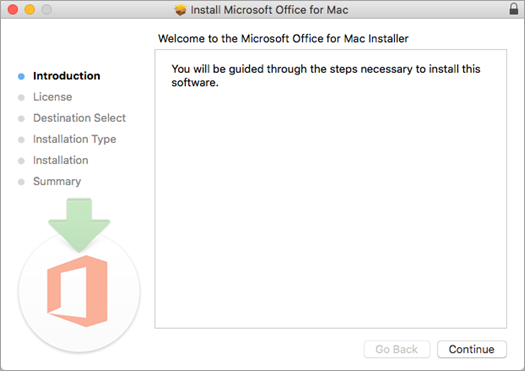 Review the software license agreement, and then click Continue.
Select Agree to agree to the terms of the software license agreement.
Choose how you want to install Office and click Continue.
Review the disk space requirements or change your install location, and then click Install.
Note: If you want to only install specific Office apps and not the entire suite, click the Customize button and uncheck the programs you don't want.
Enter your Mac login password, if prompted, and then click Install Software. (This is the password that you use to log in to your Mac.)
The software begins to install. Click Close when the installation is finished. If Office installation fails, see What to try if you can't install or activate Office for Mac.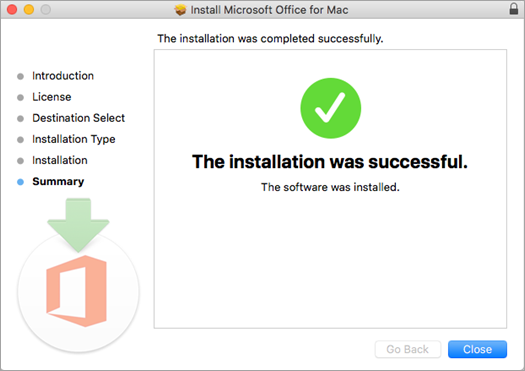 Launch an Office for Mac app and start the activation process
Click the Launchpad icon in the Dock to display all of your apps.
Click the Microsoft Word icon in the Launchpad.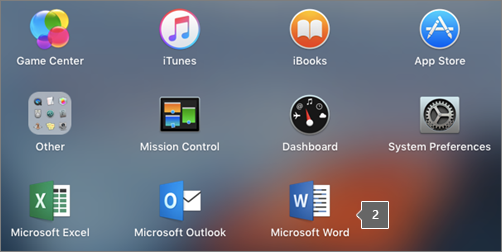 The What's New window opens automatically when you launch Word. Click Get Started to start activating. If you need help activating Office, see Activate Office for Mac. If Office activation fails, see What to try if you can't install or activate Office for Mac.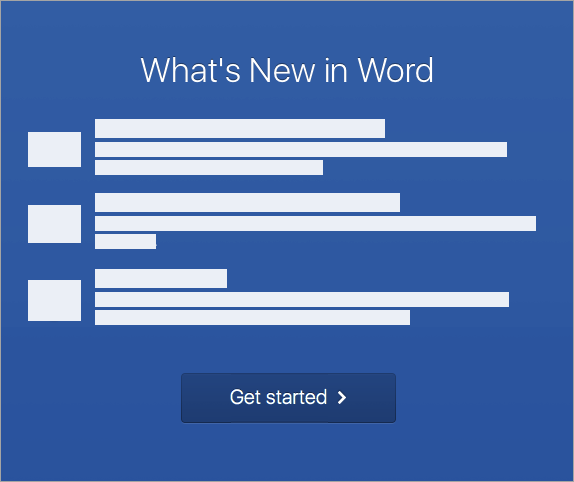 Installation notes
How do I pin the Office app icons to the dock?
Go to Finder > Applications and open the Office app you want.
In the Dock, Control+click or right-click the app icon and choose Options > Keep in Dock.
Can I install Office on my iPhone or iPad?
Yes, see Install and set up Office on an iPhone or iPad and set up email on an iOS device (iPhone or iPad).
Activate Office for Mac
 If you're running into errors or issues with installing or activating Office on your Mac, see What to try if you can't install or activate Office for Mac instead.
Before you begin activating, if you haven't already, you'll need to redeem and install Office on your PC or Mac.



In the top menu bar select Finder > Applications and scroll down to the Microsoft Office apps.
Open any Office app, like Microsoft Word and in the What's New box that opens, select Get Started.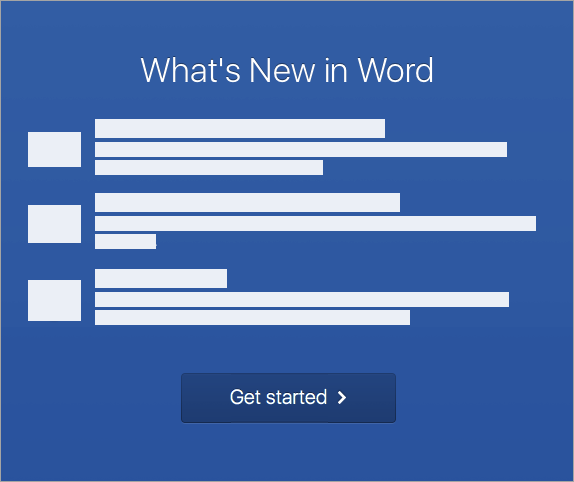 On the Sign in to activate Office screen, select Sign in.
Note: If you weren't prompted to sign in, open a blank file and go to File > New from template > Sign in.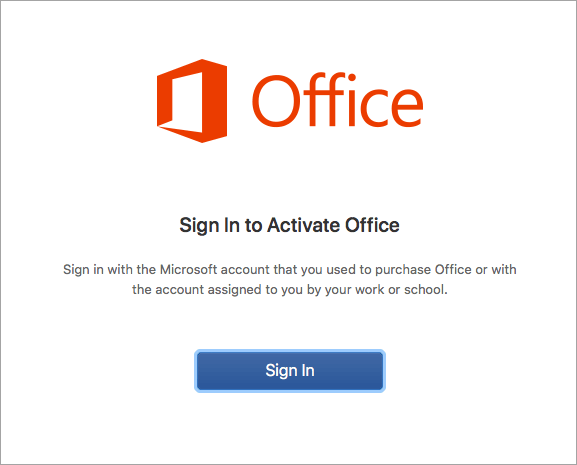 Enter the email address associated with Office for Mac and click Next.
Note: This may be the email you used for your Microsoft account or the Microsoft 365 for business account assigned to you by your work or school.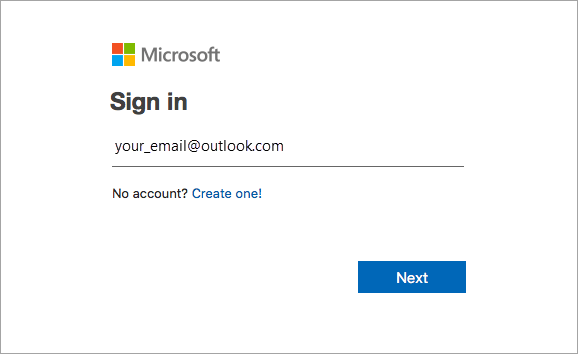 Enter the password associated with the email address you entered, and click Sign in.
Note: This screen may look different depending on your email provider.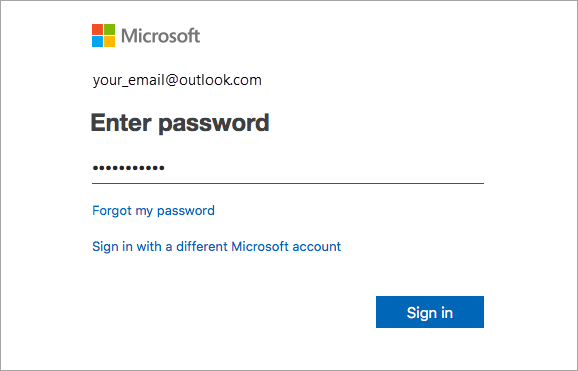 The system checks if you have a valid license and then will activate the product.
Important: If you have multiple licenses, please follow the steps in the Activate with multiple licenses section.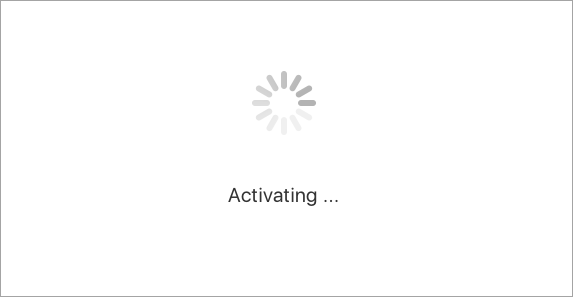 You're done! Click Start Using Word, to start using the app.
Tip: To make the Office apps easy to launch, you can add them to the dock.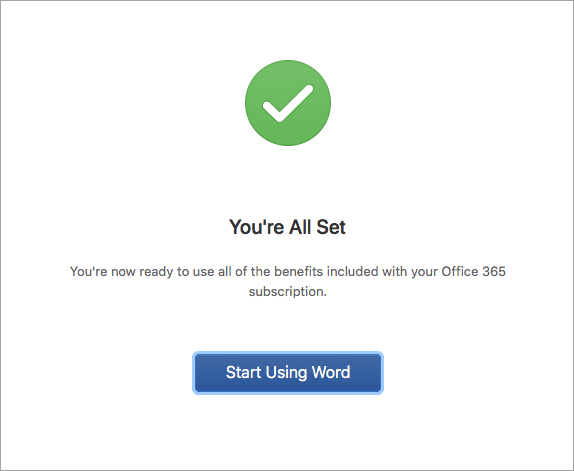 Reset your Outlook Profile (for MAC)
STEP 1: DELETE THE EXISTING ACCOUNT
Open Outlook
In the menu bar, select Outlook > Preferences > Accounts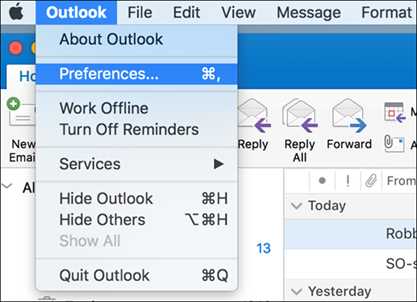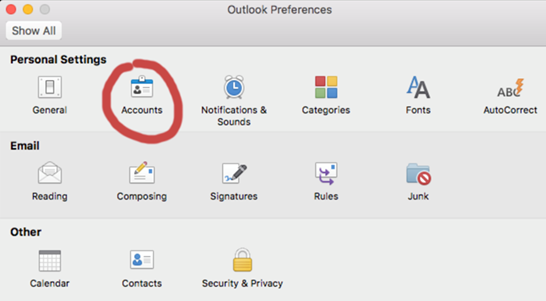 Select account you want to delete, then click the "-" button to remove and confirm the deletion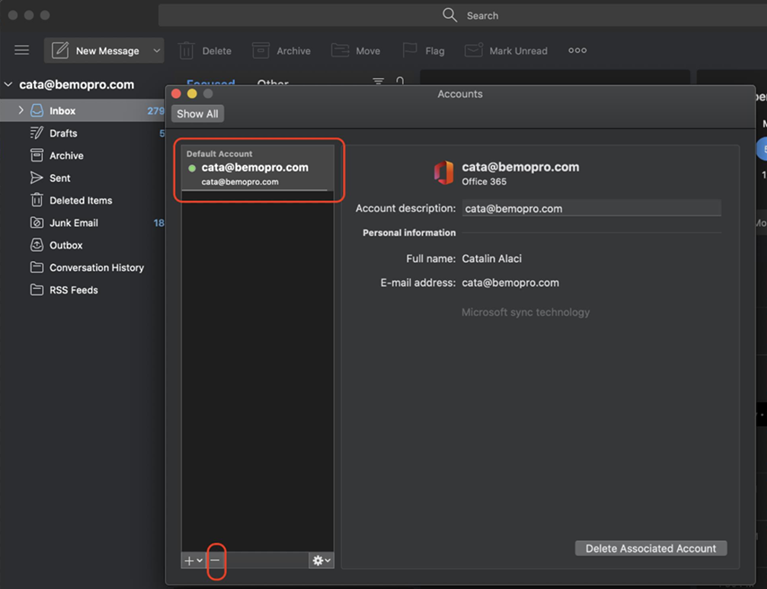 STEP 2: ADDING THE NEW ACCOUNT
To add the account. Select the "Add email Account" button and provide the necessary information and select "Exchange or Office 365" option.
Enter your company email credentials.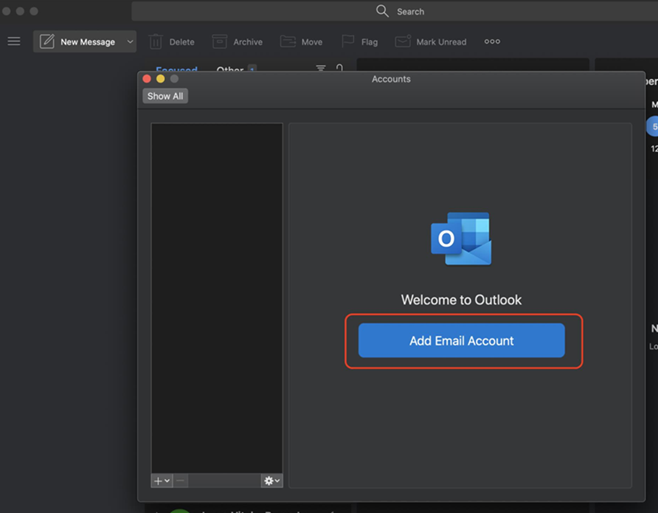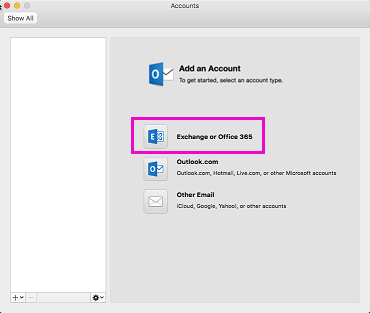 Here is an article on how to manage profiles or identities in Outlook for Mac.
https://support.microsoft.com/en-us/office/manage-profiles-or-identities-in-outlook-for-mac-fed2a955-74df-4a24-bef6-78a426958c4c#ID0EAABAAA=Newer_versions