This article will show you how to get your product keys and downloadable software in the event you purchased a software subscription via the CSP program such as Windows 10 Home to Pro Upgrade for Microsoft 365 Business and other CSP SW subscriptions.
NOTE: IT MAY TAKE UP TO 48 HOURS to ACTIVATE YOUR SUBSCRIPTION. IF YOU ARE NOT ABLE TO SEE YOUR PRODUCT KEY, PLEASE WAIT AND TRY AGAIN IN 24 to 48 HOURS. If the problem persists, please open a service request at www.bemopro.com/sr
STEP 1: GETTING YOUR PRODUCT KEY
Open your browser in a private/incognito session. Preferably Edge or Chrome.
Browse to office.com and make sure you are not signed into any other Office 365 account if you have more than 1 Office 365 tenant.
Sign in with your Office 365 admin account (typically something like admin@[companyXYZ].onmicrosoft.com account or with any Global Admin account for that same tenant
Click on the Admin tile

From the left pane menu, Select "Billing" > "Your Products"
Scroll down to the Software section, click on the product you want to get the keys and if applicable a download for. You will eventually get to a page similar to this one.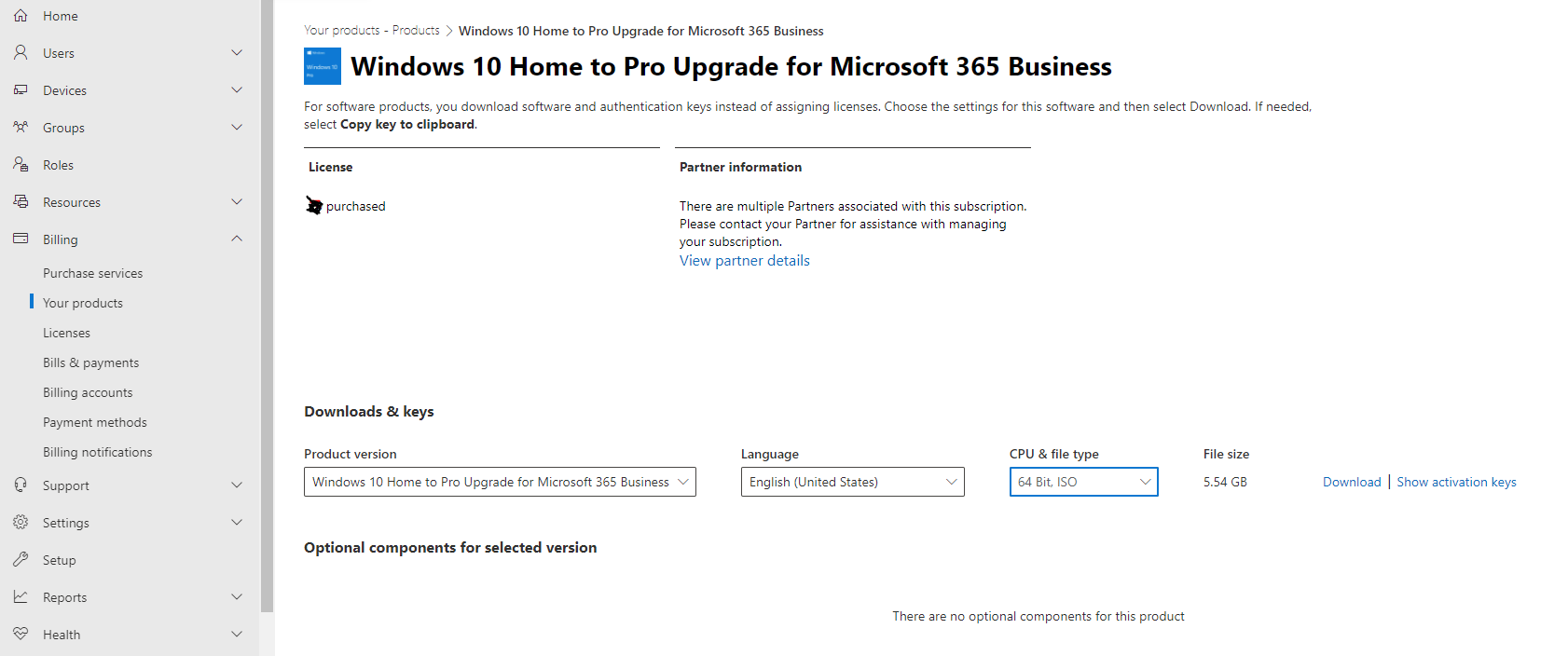 Then you can proceed with the installation
STEP 2: UPGRADE WINDOWS 10 HOME to WINDOWS 10 PRO
Before upgrading to Windows 10 Pro, make sure your device is up to date and running the most recent version of Windows 10 Home. For more info about how to keep your PC updated, see Windows Update: FAQ.

To upgrade from Windows 10 Home to Windows 10 Pro and activate your device, you'll need a valid product key or a digital license for Windows 10 Pro.
To get started...
Select the Start button, then select Settings > Update & Security > Activation .

Select Change product key, and then enter the 25-character Windows 10 Pro product key.

Select Next to start the upgrade to Windows 10 Pro.
Having issues with activation after your upgrade?
See the following for more help activating your valid product key or digital license for Windows 10 Pro: