If you're experiencing issues that affect Microsoft Teams, clearing the cache on your device may help. After you clear the cache, restart Teams.
Some of the issues that could be fixed by clearing the cache:
Users information not updated after changing their display name or email address.
Chats messages not loading or being visible.
Pictures sent not loading
Teams periodically crashing
Note:
You won't lose any user data by clearing the cache.
Restarting Teams after you clear the cache might take longer than usual because the Teams cache files have to be rebuilt.
Clear Teams cache in Windows
Step 1. Completely close Teams
In your taskbar click the arrow pointing up hidden icons and right click the Teams icon

Select Quit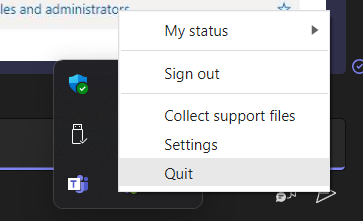 Step 2: Delete all Teams Cache folders
Open the Run dialog box by pressing the Windows logo key + R. Or click the the Windows logo key and type Run
In the Run dialog box, enter %appdata%\Microsoft\Teams, and then select OK.
Delete all files and folders in the destination folder. You can skip meeting-addin if getting an error with that one.
Restart Teams.
Clear Teams cache in macOS
If Teams is still running, right-click the Teams icon in the dock, and then select Quit, or press Command (⌘)-Q.

In the Finder, open the /Applications/Utilities folder, and then double-click Terminal.

Enter the following command, and then press Return:

rm -r ~/Library/Application\ Support/Microsoft/Teams


Restart Teams.
Source:
https://learn.microsoft.com/en-us/microsoftteams/troubleshoot/teams-administration/clear-teams-cachehttps://docs.microsoft.com/en-us/skypeforbusiness/troubleshoot/server-sign-in/unable-to-sign-in-to-sfb