This article will show you how to get your product keys and downloadable software in the event you purchased a software subscription via the CSP program for Windows 7 Extended Security Update (ESU), Windows Server or SQL Server Server.
Please check this blog for more details on how to install Windows 7 ESU
NOTE: IT MAY TAKE UP TO 48 HOURS to ACTIVATE YOUR SUBSCRIPTION. IF YOU ARE NOT ABLE TO SEE YOUR PRODUCT KEY, PLEASE WAIT AND TRY AGAIN IN 24 to 48 HOURS. If the problem persists, please open a service request at www.bemopro.com/sr
Open your browser in a private/incognito session. Preferably Edge or Chrome.
Browse to office.com and make sure you are not signed into any other Office 365 account if you have more than 1 Office 365 tenant.
Sign in with your Office 365 admin account (typically something like admin@[companyXYZ].onmicrosoft.com account or with any Global Admin account for that same tenant
Click on the Admin tile

From the left pane menu, Select "Billing" > "Your Products"
Scroll down to the Software section, click on the product you want to get the keys and if applicable a download for

Perpetual software may look like this. Pick the product version, hit 'show activation keys' and download whenever applicable.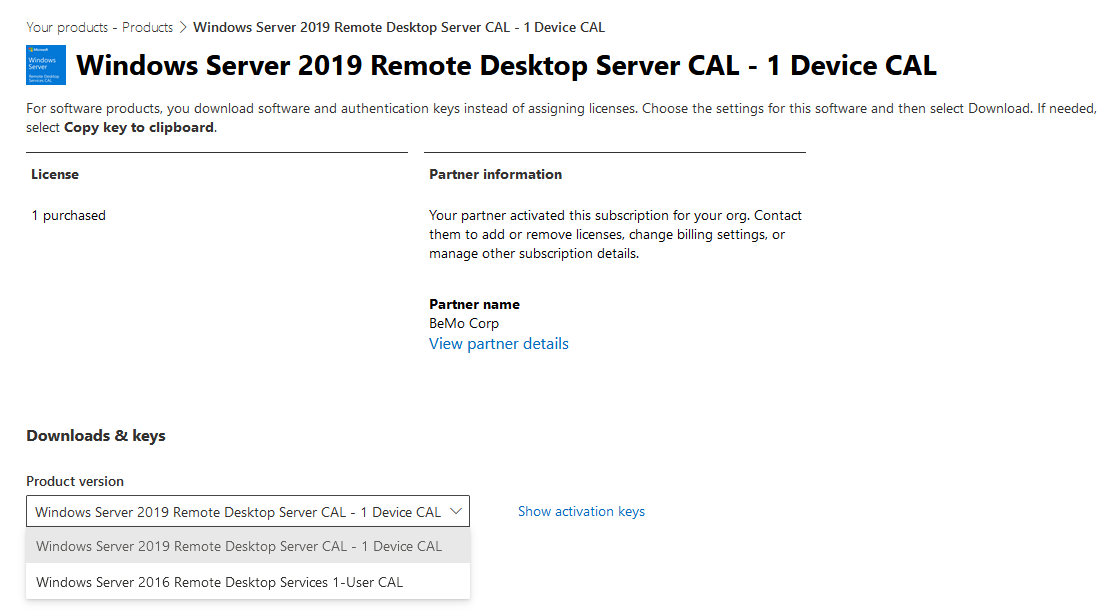 Please check this blog for more details on how to install Windows 7 ESU